We've added a new permission to the APSM Portal that governs access to the Certification of Incident Investigation Management Reviews. Before this update, any user with Plant Administration or Multi/Company Administration permissions could Certify the Management Review of an Incident Investigation. Now you can specify which users with Plant Administrator + permissions can Certify Management Reviews by giving them the Management Review permission. No other user, administrator or otherwise, can Certify a Management Review without this permission. Users given this permission will also notice they have a new dashboard object (Inc Inv Mgmt. Review) displaying incidents that have been reviewed and need to be certified.
NOTE: If no one has Management Review permissions for a Plant, all Plant or Multi/Company Administrators will still be able to Certify Incident Investigation Management Reviews. By giving a user/users the Management Review permission for a Plant, you are locking it down to those users.
The following is a step-by-step tutorial on how to give the Management Review permission to specific users.
Setting the Management Review Permission
Users with Company Administration + permissions can manage Incident Investigation Notification settings for Plant(s) they have access to.
Within the Online Incident Investigations Grid, select the Incident Investigation Notifications Button.

This opens the Incident Investigation Notifications grid. If the user is not listed, select the Add Button.

This opens the Add / Edit Incident Investigation Notification window. Select an employee from the Person to Notify dropdown, check the Management Review option, and select Save.

If the user is already listed, select the Edit Button to the right of their name.

Check the Management Review option and select Save.
Inc Inv Mgmt Dashboard
Giving a user the Management Review permission will activate the Inc Inv Mgmt Review Dashboard object.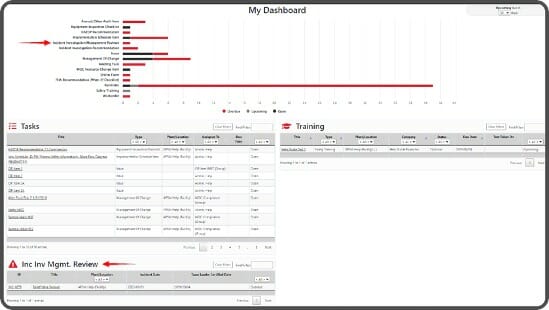 Note: The Inc Inv Mgmt Review Dashboard object is only visible when there are Incident Investigations being reviewed.